2018 Featured Aircraft
North American P—51 Mustang - Craig Hutain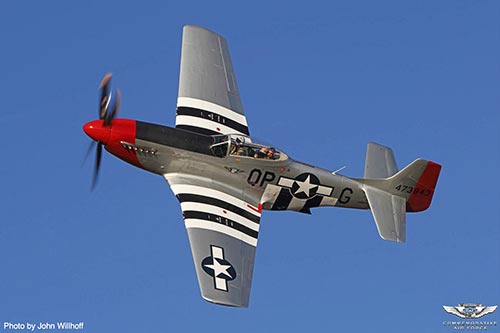 North American P-51 Mustang known as "Red Nose" ( Photo by John Willhoff) The Airplane That Started it All.
Started flying with my father when 10 years old, in a J-3 cub. Developed a love for sport flying, Biplanes, Radial engines, and Aerobatics after moving west and working at Santa Paula Airport (California). I soloed at 17 years old, completing a sportsman aerobatic routine on my first solo flight.
Became a flight instructor while in college, and taught primary, and instrument flight training and aerobatics all throughout college. Graduated with a BS in Aeronautical Engineering, from Cal Poly, San Luis Obispo, California in 1982.
Started flying for the airlines in 1982. Flew De Havilland Twin Otter and Dash 7 aircraft for Rocky Mountain Airways. B-727, MD-80 and B-737 with Continental Airlines.
Now flying as a Check Captain in the B-737 for United Airlines, based out of Houston, TX
Currently has over 32,000 hours of flight time in over 100 types of aircraft. Rated as an Airline Transport, Commercial Glider, and Seaplane Pilot, in addition to being a Flight Instructor for single and multi-engine aircraft, and Instruments. I currently own a Vans RV-8.
Started flying with the CAF (Commemorative Air Force) in 2009 after starting out in the Pyro field as a helper. Got the itch, the rest is expensive history.
Flies several different types of CAF aircraft.
North American P-51, Dixie Wing, Atlanta
Tora: Zero, Kate. Val. (Presently assigned AI-118)
Bell P-39, Centex Wing
Bell P-63 (2), P-63 Sponsor Group (Houston), Dixie Wing, Atlanta
Note: Currently flies HALF of the flyable Bell fighters in the WORLD!
Married to Lori for 17 years, Two grown children, Traci and Kelli, three young grandsons..... Leon, Jude and Arlo.
The P-51 will be performing a Demo flight and is offering rides in the P-51 for purchase.
Next Performer >