2016 Featured Performers
Fairey Gannet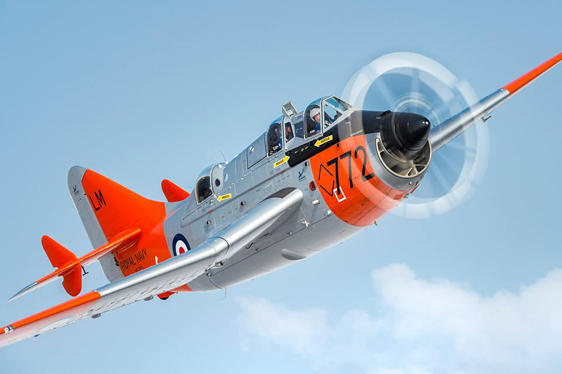 At the Foundation's creation it was the vision of its founders that over time we would restore, preserve and operate the rarest and most unique historic aircraft in the world from our location of New Richmond, Wisconsin where the people and officials are in full support and backing of our charity and growth.Our Foundation, unlike any other in the world is unbelievably fortunate to be the home of the extremely rare British Fairey Gannet, that will continue to be our flagship aircraft as we form our unique themed collection around it forming our museum. This is the World's Last flying Fairey Gannet T5 anti-submarine aircraft, XT752. In her incredible list of credits to her history she was the worlds first and only prototype dual control trainer in 1954. Less than ten years later, she was factory rebuilt to become another new design development for the second time. She is now the worlds oldest surviving Gannet, and the worlds oldest turboprop aircraft flying of any type. She is the last Gannet to land on an aircraft carrier in the world and the last in the world to retire from the military in 1978. She is also the most famed of all Fairey Gannets having many magazine and TV credits continue around the world to her name, with far more to come.
General Specifications
Crew: 3-4
Length: 43ft
Wingspan: 54ft 4in
Height: 13ft 9in
Wing area: 483 ft²
Empty weight: 15,069 lb
Powerplant: Armstrong Syddeley Double Mamba 101, 3,035shp
Propellers: 2 x independent contra-rotating 4-bladed Dowty Rotol
Maximum speed: 310 mph at sea level
General operating altitude in sub hunting mode; 200 ft above sea level
Endurance: 5-6 hours
Armament: 2 x 2,000lb torpedoes, 4 x 200lb nuclear depth charges, 16 x rockets, flare markers, sonar buoys, and long range fuel capability
This truly amazing aircraft generates a massive amount of international attention both public and by the media wherever she is.
Videos
Additional websites complimenting this amazing aircraft can be seen at: www.facebook.com/FaireyGannetXT752
Next Performer >